Obama: household time , not politics, is likely to be my life's 'most precious' memories
Addressing a summit for young African leaders in Washington, the US president spoke reflectively about balancing family life with a political career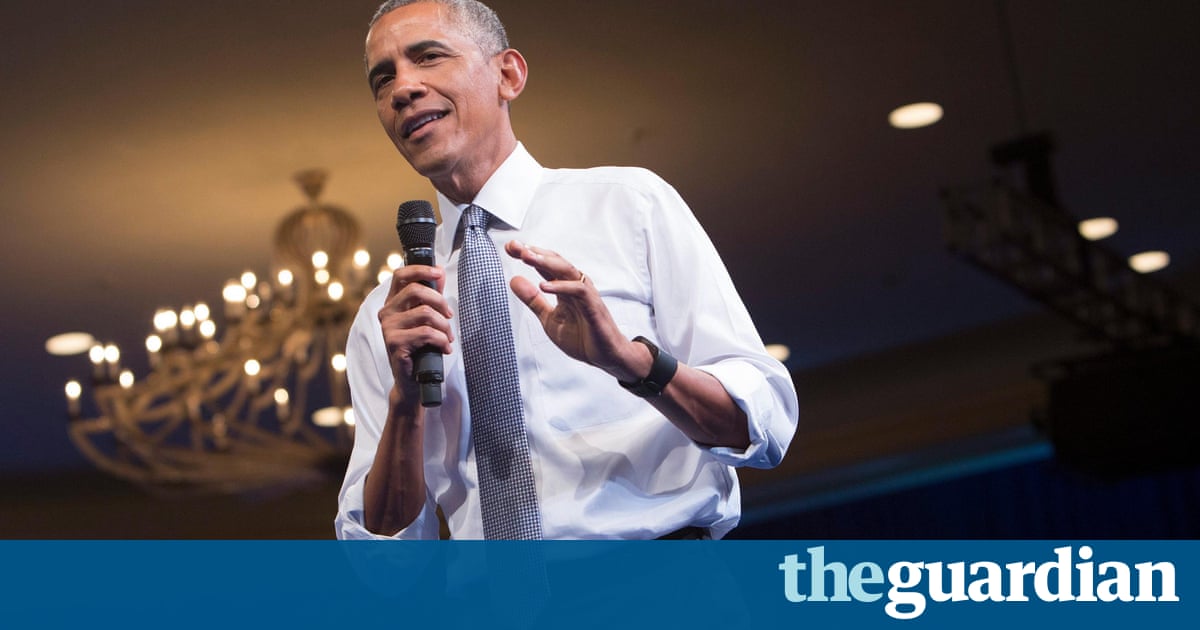 Birthdays are often cause for intimations of mortality. Barack Obama, who turns 55 on Thursday his last birthday in the White House is no different.
I am positive that if Im lucky enough to live to a ripe old age and Im on my deathbed and Im thinking back on my life, I wont be recollecting some speech I dedicated or some statute I signed, he mused on Wednesday. Ill be recollecting holding hands with one of my daughters and strolling them to a park. Thatll be the thing most precious to me.
The US president was addressing a summit of the Mandela Washington Fellowship for Young African Leaders in Washington. He was greeted by chants of Yes, we can! a once thrilling sobbing that already has a wistful ring and a lusty chorus of Happy Birthday to You.
One member of the audience asked him about the importance of family life to political leaders. Preserving balance, having a strong partnership with your wife or spouse, raising children who are kind and helpful and strong and generous and all the things that my wonderful daughters are, that really is its own reward, Obama said to applause.
He noted that some great leaders have not had happy personal lives, and some outstanding fathers and parents have been bad leaders. The two things dont always align, he acknowledged.
For me, the reason that its been useful to maintain that balance is I think its grounded me. Its let me, during the course of my presidency when things arent going so well, to remember that I have this beautiful family and this wonderful wife.
And when things are going very well, its good to go home and then my wife pesters me about how I left my shoes in the middle of the living room, or my daughters think what Im talking about over dinner is boring, and that brings me down to earth.
Read more: www.theguardian.com
Go to Homepage
'Yes we did': Barack Obama lifts America one last time in emotional farewell
Outgoing president gives proud account of his eight years in office and pays moving tribute to Michelle, wife, mother of my children and best friend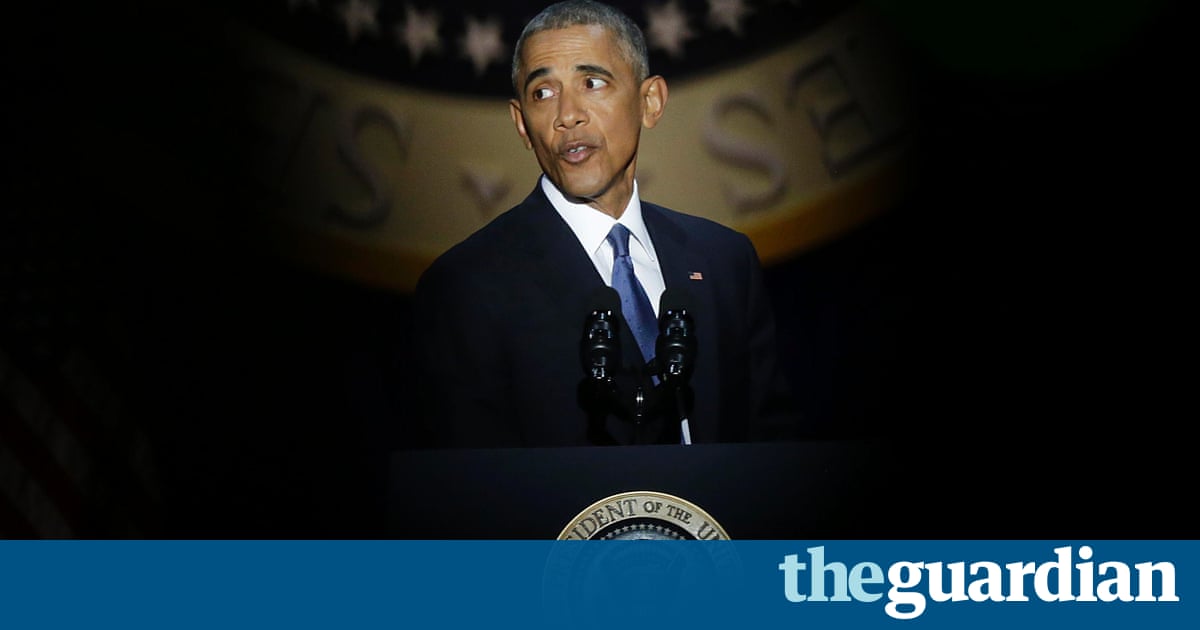 Yes we can, he said one last time. Yes we did. And the crowd roared.
Barack Obama the son of a Kenyan goat herder and self-described skinny kid with a funny name who grew up to become Americas first black president had come to say goodbye.
But while for most of the past eight years it had seemed this night would be one of joy and nostalgia, now it came with a sober note, laden with omens and warnings about a democracy under siege.
Obama had hoped to be talking about passing on the baton to fellow Democrat Hillary Clinton. Instead Donald Trumps stunning victory implied an existential threat and called for him to paint on a bigger canvas. In a state of our democracy speech he deftly concentrated his fire not on the president-elect but on the malaise that produced him. In 4,300 words he only mentioned Trump by name once but delivered much by way of repudiation.
Obama dismissed talk of post-racial America, in vogue after his own ascent in 2008, as unrealistic. He defended the rights of immigrants and Muslim Americans. He lambasted those who refuse to accept the science of climate change. He warned of the threat posed by the rise of naked partisanship, with people retreating into their own self-confirming bubbles.
There was not, perhaps, the piercing emotion of Obamas greatest speeches. But when he came to thank his wife, Michelle, for standing by him through it all, an eulogy that prompted one of the biggest cheers of the night, he wept.
They were back in their home city, Chicago, albeit in the unromantic surroundings of a dark and cavernous convention hall with giant US flag, presidential seal and TV screens. The make-up of the audience male and female, young and old, diverse in race and religion was itself a statement about who he was and what he stood for. They cheered and roared and whistled, rising in a wall of human noise, holding his memory tight.
Every day I learned from you, Obama told the audience. You made me a better president and you made me a better man.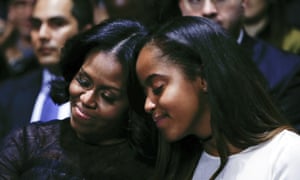 Read more: www.theguardian.com
Go to Homepage